When starting a business can feel daunting, researching low-cost ideas to get started can get you going down the right road to success. Small businesses make up 99.9% of companies in the nation, with 31.7 million small businesses in the U.S. alone. Small businesses create jobs for others and work wonders for our economy. In this post, we'll share 25 business ideas under $1000 you can start today from home.
Table of Contents
Dreaming of being a small business owner yourself? Today we're looking at 25 of the quickest and cheapest ways to start your own small business journey:
#1 – Writing Services
If you're skilled at writing, you could consider setting up a writing business.
Many businesses will pay for copy from freelance websites such as Fiverr, UpWork, and Clearvoice.
You can also create a blog to show off your work to potential clients.
#2 – Editorial Services
Similar to writing, businesses will pay anyone who can spot grammatical errors.
Freelancing is the best way to start out in this line of work, working your way up to being established.
Training might also come in handy here to help you stand out from the crowd.
#3 – Social Media Management
While you might be great at social media management, others are not.
Lucky for you, they'll pay you to do it for them!
Look for businesses that need help with their social media profiles and offer your services.
Volunteering could be good if you're just starting out to get your name out there.
#4 – Delivery Services
If you have a vehicle and don't mind driving around for hours at a time, you can make a lot of money delivering and packing items for others.
You could deliver food, such as Uber Eats, or deliver groceries to seniors. Dumpling is another app delivery solution that gives drivers more control over their businesses.
#5 – Yoga Instructor
You can become a yoga instructor with just one year of experience.
Find a training program to get you registered as a Registered Yoga Teacher.
Then you can begin your business as a Yogi.
#6 – Personal Training
Similar to a yoga instructor, you can train to become a personal trainer.
You'll need to get your certification, which will take around three or four months to study for.
Once you pass your exam you'll be able to offer services around your community.
#7 – Pet Boarding
Pet car services are incredibly lucrative – people will pay good money for their pets to be well looked after while they're away!
The more services you offer, the more clients you will gain. Think grooming, walking, boarding, and more.
#8 – Virtual Assistant
Virtual assistants can earn a lot of money by working from home.
You'll need excellent organizational skills and a clear idea of which services you can offer.
VA offers email management, bookkeeping, website maintenance, social media management, customer service, and more.
#9 – Childcare Provider
If you have babysitting experience, you can offer your services as a childcare provider.
Advertise in your local area, as well as online.
CPR certification will give you a leg up into this business, as well as a background check to show clients.
#10 – App Development
A lot of businesses will outsource when creating apps, and if you have the relevant experience, they might choose you.
You can take classes to teach you how to develop apps, or you might be able to begin making money right now if you already know how to do this.
#11 – Translation Provider
If you're fluent in more than one language, you can offer your services as a translator.
You will get paid more if you have a specialty to promote, such as medical translation.
#12 – Property Management
You'll need a real estate broker license to be a property manager in most states, but some don't require this certification.
Look for a niche market and a mentor who can help you grow in this business.
#13 – Web Development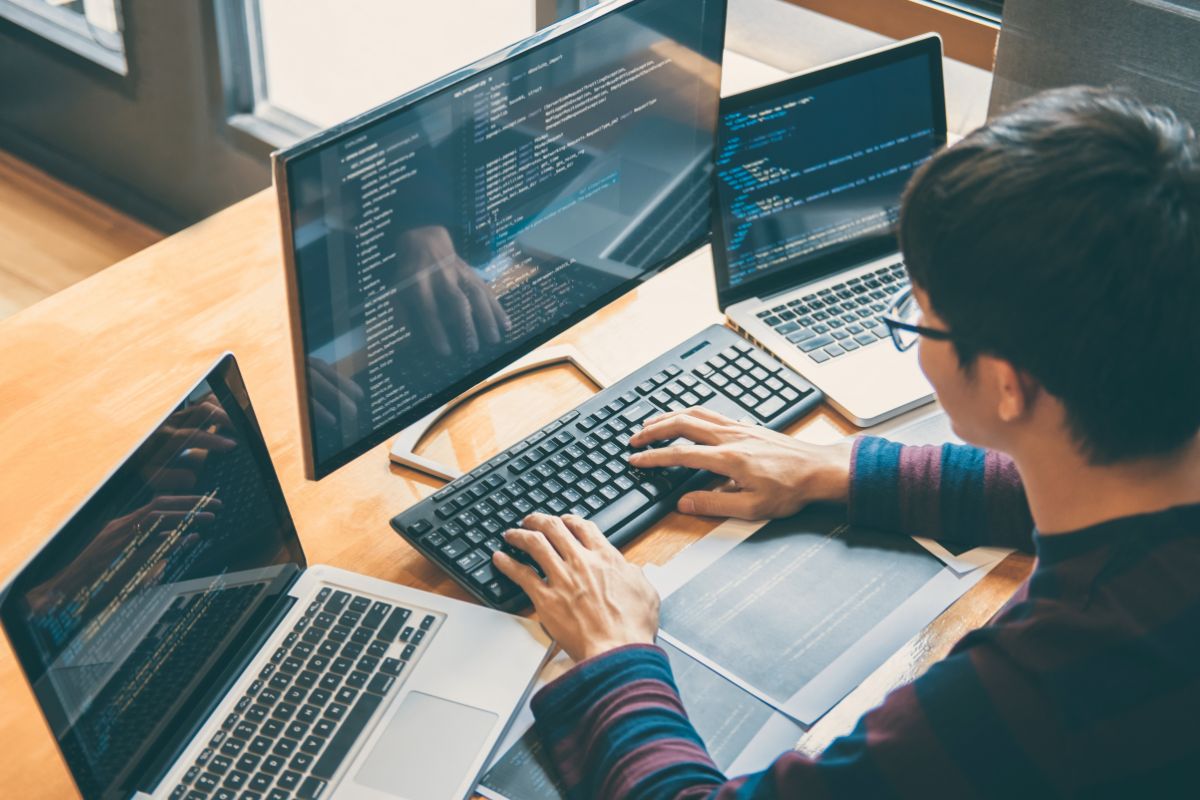 Do you have coding experience? Then you can develop websites for others in exchange for money.
Make sure you have a good portfolio to show potential clients!
#14 – Home Repair Services
Once you're licensed to complete home repairs in your state, you can begin offering the services around your neighborhood and online.
Make sure you don't accept any orders above your experience level.
#15 – Landscaping
If you enjoy gardening, this could be a great business opportunity for you to set up.
Start offering your services around your neighborhood, and don't forget to take pictures for your portfolio!
#16 – Tour Guide
If you live in a city loved by tourists, why not take advantage of this and start offering tours?
You could create walking tours, bus tours, or more.
There are even some platforms that handle everything for you – all you need to do is complete the tour!
#17 – Cleaning Services
Anyone can offer cleaning services as long as you have a keen eye for detail and don't mind getting a little down and dirty.
Find clients online and keep them happy to continue cleaning for them on a consistent basis. List your services on Care.com to get going.
#18 – Event Planning
If you pride yourself on being able to throw an excellent party, maybe event planning is the business venture for you.
Create a portfolio of your experience and start looking for potential clients!
#19 – Professional Photography
Can you work your way around a camera, working the angles, lighting, and more?
Then you can set up your own photography business and start offering shoots for weddings, special occasions, and photoshoots.
#20 – Video Editing
Many people know how to film a video, but it is much harder to properly edit one.
Teaching yourself how to edit videos can be a lucrative business, especially if you create a loyal client base of aspiring YouTubers.
#21 – Bookkeeping Services
You don't need certification for becoming a bookkeeper, but you can get it to stand out from the crowd.
This will still be less than $1000, and you'll likely gain more customers from your certification.
#22 – Life Coaching
Some people are excellent at motivating people and coming up with fresh perspectives on life.
If this sounds like you, why not try your hand at life coaching?
You can offer services all over the world thanks to video calls and completing the sessions online.
#23 – Affiliate Marketing
You might be sitting on a website with a big following capable of making you money without even realizing it.
By monetizing your website with affiliate links and marketing, you can earn money from your already existing website.
#24 – Tailoring
If you have a sewing machine and a keen eye for needlepoint, why not set up a tailoring business?
You could have clients send their garments to you from all over the country.
#25 – Catering
Sometimes you can't beat making a large quantity of food for lots of people.
If you're a keen cook, then you could run a great catering business.
Summary
As you can see, there are plenty of small business ideas that you could turn into a reality today, for under $1000.
If you have all of the supplies needed, you might not need to pay anything today at all!
Small businesses thrive off of their client base, so it is incredibly important to keep clients happy and coming back.
No matter which business you choose, the first thing you need to do is build up a strong client base.
Enjoy, and good luck!