Many things will change when you switch from working at an office to working at home. Your work will be different, as will your surroundings and maybe even your hours. Reduced productivity, time management, and waning motivation are only a few of the challenges you may face when making this switch. Often high-tech home office ideas are needed to help make the transition smooth.
Table of Contents
One thing that shouldn't change is the quality of your work or the efficiency with which you complete tasks.
The tech you use can make all the difference when trying to be productive at home. The right tools can help you stay productive and connected, whether working from a dedicated home office or your kitchen table.
Here are eight high-tech home office ideas to help you stay on task and get work done even when you're not in an office:
#1 – A Good Router and Reliable Internet Connection
The last thing you want when working from home is for your internet to go out in the middle of a conference call or video meeting. Sure, life happens, but working at home means the benefits of paying more for a fiber connection can boost your professionalism and productivity. If you're working from home, you need a router that can handle the increased traffic. You also need a reliable internet connection.
If your internet is constantly going out or is slow and unreliable, consider upgrading your router or switching to a different ISP. A little research can go a long way in ensuring you have the best possible internet connection for working from home.
#2 – A Good Laptop or Desktop Computer
If you're working from home, you need a good computer. This is non-negotiable. A laptop is usually the best choice for most people, as it gives you the flexibility to work from anywhere in your home. But if you're working from a dedicated home office, a desktop computer can be a better choice.
No matter which type of computer you choose, ensure it has the processing power and memory you need to run the programs you use for work. And if you're doing a lot of video meetings or conference calls, be sure to invest in a good webcam and microphone.
#3 – A Good Webcam and Microphone
A good webcam is essential if you often need to participate in video meetings or conference calls. A webcam can make a big difference in the quality of your video calls and help you feel more connected to your colleagues and clients.
There are a lot of great webcams on the market, so take some time to research which one would be best for you. You may want to consider factors like price, image quality, and microphone quality when deciding.
A microphone can make a big difference in the quality of your audio and can also help you be heard more clearly by your colleagues and clients. If you plan on participating in many conference calls, look for a microphone that can be easily attached to your computer or laptop.
Many laptops come with built-in webcams and microphones, but they're often not of the best quality. An external webcam can make a big difference in the quality of your video chats and calls. If you're serious about video conferencing or participating in audio calls, you should invest in a separate webcam and microphone.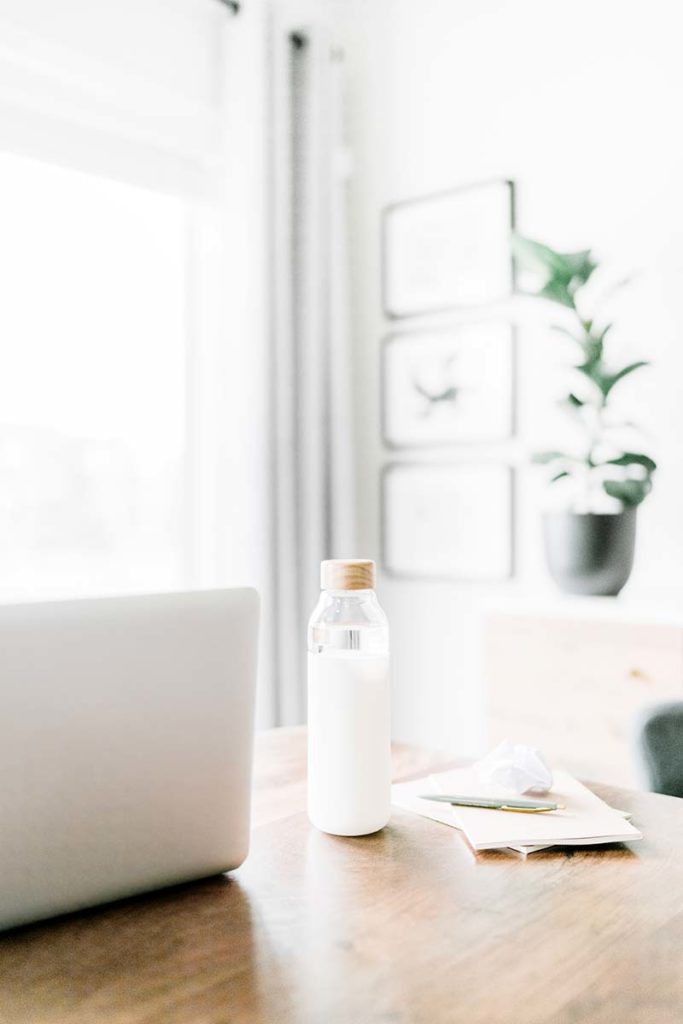 #4 – Noise-Canceling Headphones
Noise can be a big distraction when trying to work from home. If you live in a busy household or have young children, you know how important it is to be able to block out noise when you need to concentrate.
Noise-canceling headphones can help you focus by blocking out distractions. They can also help you be more productive by allowing you to listen to music or other audio while you work.
If you often work in noisy environments, noise-canceling headphones can be a lifesaver. Be sure to choose a pair that's comfortable to wear and that has good sound quality.
#5 – Network Security
Having strong network security is one high-tech home office idea that's critical. This is especially true if you operate in a data-sensitive sector. It's still necessary to take precautions on your home network, even if you don't work in a data-sensitive business.
You can do a few simple things to help secure your network, like password-protecting your router and using a firewall. But if you want the best security for your home network, you should consider investing in a VPN.
A VPN, or virtual private network, encrypts your internet traffic and helps to protect your privacy. It can also help improve your security by making it more difficult for hackers to snoop on your network. A VPN is a good investment if you work in a data-sensitive field or want the best possible security for your home network.
You'll also want to ensure you've got good virus protection for your computer. Even if you're careful about what you click on and where you browse, viruses and malware can still find their way onto your computer. A good virus protection program can help to protect your computer from these threats, and it can also help to keep your data safe.
#6 – Online Management Tools
Also, high-tech home office ideas that rank high for many remote workers is task management. Task management software such as Asana, Trello, or Monday can help you stay organized and on top of your work. You can also use these tools to track deadlines, assigned tasks, and project progress.
If you struggle to stay organized or keep track of your work, consider using a task management tool. These tools can help you stay on top of your workload and ensure you don't miss any critical deadlines. You don't need a huge budget to get started with task management software, either — many of these tools have free plans that are perfect for small businesses and individuals.
#7 – An All-in-One Printer
A decent all-in-one printer can be a big help when working from home. All-in-one printers can print, scan, and copy, which can come in handy for various tasks. Whether you need to print documents for clients or want to be able to make copies of important papers, a printer can be a valuable addition to your home office.
You don't need a top-of-the-line model, but you'll want something dependable and can handle occasional heavy use. When choosing a printer, consider what type of documents you'll be printing most often. If you need to print high-quality photos or graphics, you'll want a printer designed for that purpose. But if you mostly need to print text documents, you can save money by choosing a more basic model.
Our favorite printer for economy and good print quality is the Epson EcoTank.
#8 – Disc Backup
Backing up your data is essential, whether you work from home or in an office. If your computer crashes or you lose your data for any reason, having a backup can help you get back on track quickly.
There are a few different ways to back up your data, but one of the easiest is to use an external hard drive. External hard drives are relatively inexpensive and easy to use and offer a convenient way to store your data. You can also use cloud storage services to back up your data, but these can be more expensive.
If you work with sensitive data or want to be extra careful, you can use a combination of external hard drives and cloud storage. That way, you'll have a backup of your data even if your computer is lost or stolen.
The Bottom Line
When it comes to investment, the most important thing is to find what works best for you. Consider your needs and budget, and then decide based on that. With a bit of research, you should be able to find the perfect tools for your home office.