For parents who work at home, life is often a juggling act. When the Covid-19 pandemic hit, it exacerbated the problem by adding in homeschooling children to the mix. This season put many work at home parents over the edge. It also forced many parents to confront the juggling act of parenting, working, and teaching at the same time. At the end of the day, navigating the work at home juggling act is complicated and exhausting.
In this article, we hope to offer you some practical tips and advice to create a family atmosphere of harmony and peace.
Table of Contents
Getting through your day is difficult enough when you're trying to work from home with the kids, let alone manage to teach them at home. However, you can take steps to make sure that you're able to manage all three roles effectively and not let any one of them suffer.
Creating a Schedule to Navigate the Work at Home Juggling Act
One of the best ways to manage your time, regardless of how many roles you're trying to juggle, is to create and stick to a schedule. This will help you stay on top of deadlines, meetings, and appointments while also giving you time to focus on your children and their educational or homework needs.
Designate specific times for each activity and task throughout the day and week, including time for breaks, lunch, and after-school activities. If possible, try to find a rhythm or routine that works well for you and your family and stick to it as much as possible. This will help everyone feel more relaxed and less stressed.
For example, you could schedule your work hours from 9 am to 1 pm, homeschooling from 1 pm to 3 pm, and then have the rest of the afternoon free for lunch, relaxation, and extracurricular activities. If you need more time to work, try to wake up earlier or work later at night after the kids are in bed.
Or, if you're working from home with young children, you could try a schedule where you work for two hours while your partner watches the children, take a break to play with the kids for an hour, and then work for another two hours while your partner takes over child-care duties.
No matter what schedule you choose, the important thing is that you're intentional about how you're spending your time and that everyone in the family is on the same page.
Make Use of Resources and Technology to Navigate the Work at Home Juggling Act
There are many resources available to help you manage your time, including online tools, apps, and books. Do some research to find what works best for you and your family and make use of them.
Some helpful resources include:
Online tools like Google Calendar or Asana can help you keep track of your schedule and deadlines.
Apps like Trello or Evernote can help you organize your thoughts and tasks.
Books like The Life-Changing Magic of Tidying Up or Getting Things Done can give you helpful tips on how to declutter your mind and space.
In addition, there are many websites, blogs, and articles with advice on how to manage your time while working from home with children.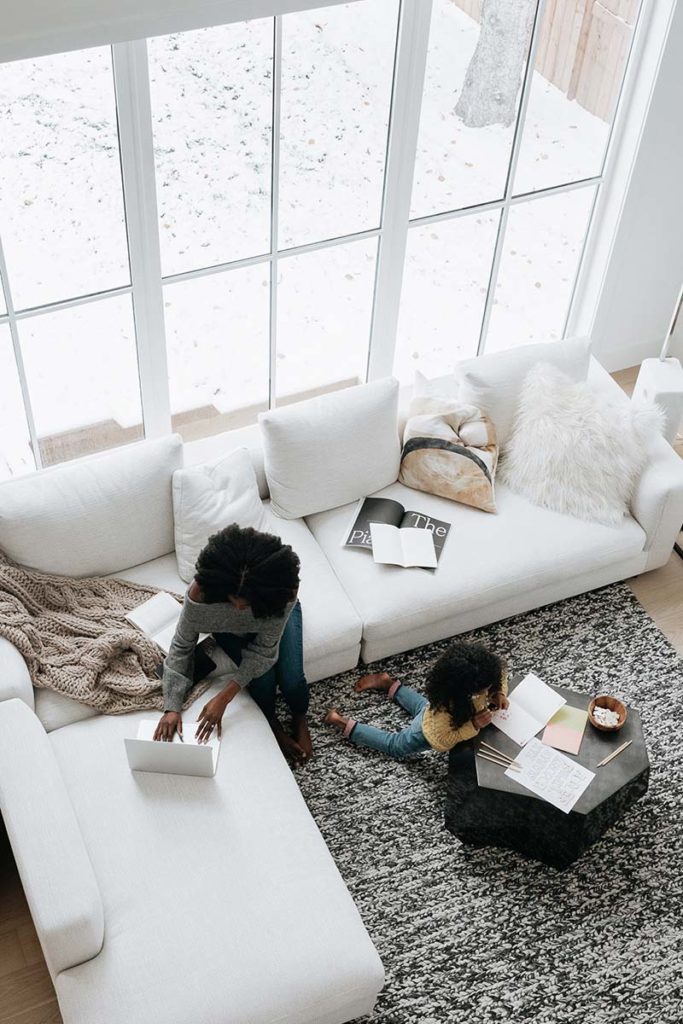 Use Your Support System to Navigate the Work at Home Juggling Act
It's important to lean on your support system when you're trying to manage multiple roles. This could include your partner, extended family, friends, babysitters, or even your child's teacher.
If you have a partner, talk about how you can divide and conquer the different tasks and responsibilities. Maybe one parent can take on more of the homeschooling duties while the other focuses on work. Or, you could take turns watching the kids so that each parent gets some uninterrupted time to focus on their respective tasks.
If you don't have a partner, see if other family members or friends can help you out. Maybe they can watch your kids for a few hours each week so that you can have some time to work or homeschool uninterrupted.
You could also hire a babysitter or nanny to give you a break for a few hours each day. This could be someone who comes to your house or someone who watches your kids via video chat while you're working.
If your child is old enough, they could also help out around the house by doing chores or taking on some homeschooling responsibilities. This will teach them responsibility and time management skills while giving you a much-needed break.
Last but not least, don't forget to ask for help from your child's teacher. They may be able to provide you with resources, advice, or even extra help with homeschooling.
Don't Try to Become a Teacher
Since the kids have to be at home, you may feel like you need to take on the role of teacher in addition to everything else you're doing, but this is not realistic or sustainable in the long run. It's important to remember that you're not a trained educator and that homeschooling is not your full-time job.
Your child's teacher is still their teacher, even if they're not in the classroom. They are the experts on the curriculum and the best person to help your child learn.
That being said, you don't have to do everything on your own. Instead, focus on creating a learning environment at home and supporting your child as they learn. This could include things like setting up a dedicated homeschooling space, providing plenty of resources and materials, and being available to answer questions and offer help when needed.
You can also supplement your child's learning by doing things like reading together, going on field trips, or watching educational shows and movies. Just remember that your goal is to support your child's learning, not to replace their teacher.
Recommended Reading:
The Bottom Line
Parenting, working, and teaching are all full-time jobs on their own. Trying to do all three at the same time is no easy feat. However, by following the steps above, you can make it work. Just remember to be patient with yourself, take advantage of your support system, and focus on creating a positive learning environment for your child, and things will start to fall into place.