This post may contain affiliate links. This means that if you click through and make a purchase (or sign up) we may receive a commission at no additional cost to you. For more information, please see Policies.
Earlier this year, I was looking for a way to make money online that wouldn't interfere with my day job AND would allow me to work when/where I wanted to. Tall order, I know. I didn't know where I could find good surveys for money. I had read about joining as many online survey sites as possible in order to increase the chances of receiving a good selection of survey opportunities.
What I found is that a lot of the survey companies paid pennies for the time spent. Even worse, some surveys were sent to me that I was not a fit for and that wasn't determined by their system until I had already spent fifteen minutes answering questions. If you are not a fit, then most companies do not pay even a nominal amount for the time spent. But, things changed when I came upon the following four companies: Swagbucks, Survey Junkie,  Pinecone Research, and VIP Voice. Sign up is quick and easy. Do it now if you want to start earning today!
**Be sure to follow us on Facebook to see what high paying focus group opportunities we're sharing today!**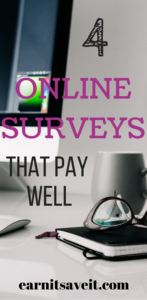 4 Online Survey Sites Worth Using for Extra Money
Selection of which surveys that an individual may complete is largely based on demographics. Some surveys may be looking for males under 30 while others are looking for moms of twins. Even then it's not that simple. You may be eligible for more surveys than I am based on where you live, your income level, your relationship status, your occupation, etc.. With that said, you never know until you try so here are a few of the ones that are indeed legitimate but I personally did not have much luck with. Some people claim to be able to make up to $1,000 a month by belonging to all of the ones listed in this post. If you find that my top 4 sites aren't keeping you busy enough, then hop on the following sites OR JUST SKIP TO THE NEXT SECTION FOR THE GOOD STUFF.
There are so many online survey sites and pay-per-click sites out there but the ones that you'll hear the most about are:
Varying opinions exist about which ones are more profitable but as stated earlier, it really depends on your personal demographics. In the end, the more online survey sites you sign up for, the greater your earning potential. The online survey sites listed below should be at the top of your list. Once you've completed the available surveys for the day, then consider moving on to the others to maximize your earnings.
Here are a few more that are quite popular.
The 4 Online Survey Sites Are…
Some people call this a pay-per-click site. Whatever you call it, Swagbucks has it all. Surveys, trial offers for pay, pay for web searches, etc…As far as surveys go, the trick here is to only spend your time on the Gold Surveys. These surveys are usually short and pay the most. Payout options include gift cards and Paypal.
Sign up for Swagbucks here. (Currently offering $5 sign up bonus with this link.)
This one is a bit different in that you build a profile (not absolutely required but highly recommended to increase your earning potential) and they match you to surveys. You accrue points and payout is via Paypal or a selection of popular e-Giftcards.
Sign up for Survey Junkie here.
This survey site is a favorite of Earn It Save It staff. And there is a reason this one is so popular.
You're typically eligible for all surveys they send to you based on your completed profile. They also periodically send screeners via email. Pinecone is not always accepting new participants so you'll have to check back frequently.
According to the website:
"However, we will be posting recruitment opportunities through banner ads on various unsolicited websites from time to time throughout the year. If you see one of these ads, please feel free to sign up with us."
Payout: Amount varies but they have recently provided a PayPal payout option. They also pay in gift cards. They pay $3 per survey.
TIP: They have an extensive FAQ section. Once accepted be sure to read it from beginning to end.
Sign up for Pinecone Research here.
VIP Voice allows you to complete surveys and earn points which can be redeemed for gift cards. The earning structure is different than other formats we've seen. The number of points you earn is based on a tiered reward level. The "tiered level" structure is set up to reward and really encourage those who complete the most surveys.  What we really like about VIP Voice is that even if you don't qualify for the survey, you can still earn Participation Points. Definitely worth checking out.
BONUS!!!
Here are the only FREE online survey apps that we currently use.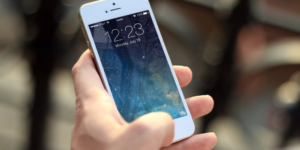 Quick Thoughts (Android App via Amazon)
I can't say enough good things about this app. It's truly one of my favorites. Not only does it tell you how long the survey is before you begin but they tell you the dollar amount so you can decide if you want to complete it or not. There's no penalty for not completing a survey. Your account balance is always displayed upon login.
There seems to be enough surveys available to consistently complete at least one a day. Surveys range from 5 – 30 minutes and pay $3.00 regardless of the length. A friend of mine in another state is only offered $1.00 per survey so pay may vary depending on your location or other demographic factors. I'm typically offered $3.00 per survey regardless of the length of the survey. I personally do not attempt any surveys over 20 minutes in length.
Payout: Once you reach $10.00 USD you can cash out in Amazon (Android devices) or I-tunes (IOS devices) gift cards. Payout is immediate. Gift card codes appear on your device and are sent to the email address on file.
TIP: If you have both an IOS and Android device you can complete surveys on both devices but cash out on the Android device if you prefer Amazon gift cards.
This app is wonderful because of the earning potential. Not only do they offer basic surveys ($0.10 to $2.00 for less than 10 minutes) they offer opportunities to participate in market research studies (if you qualify). The studies that I saw pay between $15.00 to $30.00. The only drawback to this one is that you do have to check the app fairly regularly so you don't miss any opportunities. App alerts are buggy.
According to the website:
"Surveys On The Go® is a mobile market research tool that pays users for their opinions about various topics and issues. You can opt in to categories such as business, politics, entertainment, news, sports, media and technology."
Payout: Once you reach $10.00 USD you can cash out via Amazon gift cards, Visa Rewards, or PayPal. During my last payout they threw an extra $0.20 my way for choosing Amazon gift cards as the payout option. PayPal payment is immediate. Either way, you also receive a confirmation email regarding the payout request.
TIP: Check your app at least once a day for new survey opportunities since you may or may not receive automatic notifications.
The only complaint I have about this app is that there are too few surveys. With that said $0.25 or $0.50 for a 1 minute (or less) survey cannot be beat. They pay to PayPal almost immediately. You must also respond right away to any notifications regarding new surveys. They go quick.  PayPal has paid me numerous times without any fees. The other great thing is that you do not request a payout. It happens automatically.
Payout: $0.25 Minimum via PayPal – Immediate pay
Tip: Turn on phone notifications so you don't miss a survey. They go quick.
Related Articles:
---
Which online survey are you going to tackle first? We'd love to hear about it in the comment section below.