Table of Contents
School is back in session and Thanksgiving is not even here and I'm writing about Christmas? Christmas will be here before you know it and if you haven't set aside money for Christmas shopping you may find yourself going into debt this December when that's totally unnecessary. Combine a handful of the suggestions in this article and you could have up to $500.00 for Christmas shopping.
Here are some great Ways to Pad Your Christmas Fund STARTING in September so you can breathe easy in January.
8 Ways to Pad Your Christmas Fund STARTING in September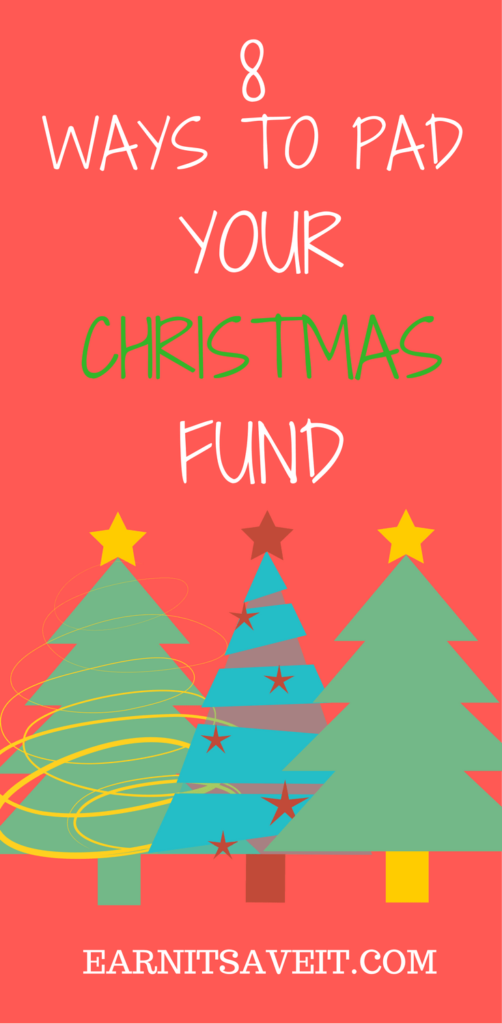 #1 – Take advantage of Holiday Skip-A-Pay
Banks and credit unions often offer the opportunity for their members to skip a car or personal loan payment (without penalty) as we get closer to the holidays.  Take that payment and put it in your Christmas fund instead.
#2 – Offer to barter babysitting services with a neighbor
If you and a neighbor have young children, offer to sit for her kids on date night and vice versa once a month through November. Use the money that would've been spent on a babysitter and add it to your Christmas fund.
#3 – Sell items on the LetGo
I love this app. I've sold a pick-up truck, a refrigerator, and other household items on this app. You simply take a picture and post it via the app. Add selling details and it's listed. No need to use your email address or phone number. Everything is done via the texting feature of the app. As always, use caution when meeting a stranger who plans on purchasing your items. Never meet at your home and have someone go with you.
#4 – Complete online surveys
Before this becomes a total time suck, make a conscious decision to stick with a handful of online survey companies. You want to earn a decent amount of change so you can reach the minimum cash-out threshold for each company. Read my article Only 4 Online Survey Sites Are Worth Using for Extra Money for my top picks.
#5 – Pay yourself first
Set up an automatic money transfer each payday from your bank account to a separate savings account at a different institution, like Capital One. This will help keep the money "out of sight and out of mind" until it's time to go shopping.
#6 – Have a garage sale
I confess. I go to a LOT of garage sales. So, the advice you are receiving is from a buyer's perspective. To make the most profits at your sale you'll need to have a lot of items and have your items priced to sell. Trying to sell books at $2 each is probably not going to help you sell. People go to garage sales for deals. Here are a few things that should bring a good return:
Combine your sale with at least one other neighbor
Advertise it as a "Huge" sale on Craigslist (and be sure it really is "Huge")
Price items in groups to save time and frustration. For example, you might have a group of household items at $1 each in one box or on one table.
As people walk up, greet them and let them know that prices are negotiable. 
#7 – Temporarily Suspend Services
Are you subscribing to premium cable? Reduce it to standard. Bank the difference in your Christmas fund for the next few months. The cable company may even offer you a reduced rate for 12 months just for calling and inquiring. Mine did.
Look at other areas where you don't want to necessarily give up the service entirely but could go without the premium service for a few months. Cha' ching!
#8 – Sell used books, CDs, magazines, and games to a used bookstore
If you have a Half Priced Books in your area then you're in luck. I love this store. They not only sell items at half of the original price they buy your used stuff. TIP: If you have several magazine subscriptions be sure to sell them as soon as possible after reading them. They pay more for current cover months. For example, you may receive your September issue in August. Be sure to take it in no later than the first week of September. Regardless of the amount they pay, deposit the funds into your Christmas account.