This post may contain affiliate links. This means that if you click through and make a purchase (or sign up) we may receive a commission at no additional cost to you. For more information, please see Policies.
No, it's not too early or too late to think about a Christmas savings account. By following the instructions provided here you'll be on your way to saving money and padding your bank account this year.
Side note. Is it just me or are Black Friday sales starting earlier and earlier each year? While shopping these deals can produce some gems, you could be missing out on an additional savings of up to 40% by shopping online if you're not using Ebates.com.
They've partnered with over 1,800 stores (including amazon.com) so there are plenty of shopping choices. This makes getting cash back from a store you normally shop highly likely and super simple. Now let's go increase our Christmas savings.
Money not saved is money lost that could've been spent on additional gifts, added to your savings plan, or used to pay a bill or two.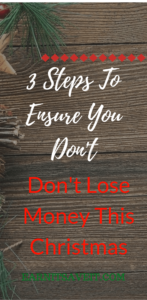 3 Steps to Ensure You Don't Lose Money This Christmas
I like Ebates Cash Back better than Swagbucks Cash Back because it's not based on a points system that I have to meet before I redeem.
The trade-off is that the cash back payout is quarterly and the minimum payout is $5.00.
Keep reading and at the end I'll show you the other reason I prefer Ebates to Swagbucks Cash Back.
Now on to that 3 step plan to help you NOT lose money this Christmas.
Step 1: Create an account at Ebates.com. It's free!
Step 2: Select a store.
When you're ready to shop, go to Ebates.com and select a store. Better yet, make sure the Ebates Cash Back button is installed on your browser so you don't have to start at the Ebates website. The button appears as the Ebates logo. When you visit shopping sites that Ebates has partnered with you will receive an alert. For example, when I visited Nike.com this morning this is what happened.

This is what appeared next to my web browser. Normally the red outline does not border the "E". The red outline signals the alert.

When I clicked on the "E" button I got a nice surprise:

Yes, that's 9% cash back PLUS an additional 25% off clearance when I use the code FALL25. Nice.
Okay, now on to Step 3.
You're on the Ebates website and you've selected a store where you'd like to shop. Now click the store's "Shop Now" button to activate the current cash back offer. NOTE: You must click through an Ebates link every time you shop at a store site in order to get credit.
Shop as normal.
That's it!
An email notifying you when cash back has been added to your account should arrive within 2 – 3 days. Also, you can check on your account balance on the "My Account" page.
This is so crazy simple.
PAYOUT: Payout is quarterly by check or PayPal. You can even have your funds sent to your favorite charity, organization or family member. Just select your preference under your Account Settings.
Optional: Download the Ebates.com app to receive notifications of money added to your Ebates account.
Here is the other reason I prefer Ebates to Swagbucks Cash Back. Take a look at what appeared this morning when I visited Nike.com.

I have both the Swag Button and the Ebates Button installed on my browser. As you can see there is a HUGE difference in the potential Cash Back offers on these two sites. Up to 3% Cash Back using Swagbucks versus 9% Cash Back using Ebates. And don't forget that extra 25% off clearance!
Now, it would be a good idea to have both buttons installed as Swagbucks may beat Ebates every once in a while.
---
**Be sure to follow us on Facebook to see what high paying focus group opportunities I'm sharing today!**
How much do you think you can add to your Christmas savings using Ebates? Please comment in the section below.