Table of Contents
What did you do this past weekend? Did you SPEND money or did you MAKE money? It's easier than you think to turn trash into extra cash every weekend, starting with $10.
Now, we know life isn't all about making money and some of the best things in life really are free. Some. The other experiences cost money and I've found a way to easily add extra cash to my "fun money" account without taking on a second job.
We've found that by dedicating just a few hours each weekend to this activity we were able to set ourselves up with a nice little side hustle. Keep in mind that this is not a passive side hustle. It does take work but we find it fun and a great way to involve family.
Here are a few more benefits of this particular activity:
You'll be physically active
This is an opportunity to meet new people but only if you want to
It is a fantastic excuse to get outdoors
How Do You Turn Trash Into Extra Cash?
Garage sales.
No, no, no. We aren't talking about holding garage sales but shopping at garage sales. This is the best way to turn trash into cash especially if you're low on funds to begin with.
Here are the tools I use to earn several hundred dollars a month turning someone else's trash into extra cash every weekend.
Where Do I Find Garage Sales to Turn Trash Into Extra Cash?
This app is an absolute game-changer. It's a free app available to both Android and IOS users. Gone are the days of using pencil and paper (or worse yet – a newspaper) to record which garage sales you'll hit this weekend. The app pulls from yard/garage sales posted on Craigslist. The free version automatically pulls the upcoming Saturday sales within a 20-mile radius of your location. From there you can select the ones you'd like to put on your route using a numbering system. The yard sales that are assigned numbers then appear on "My Route." Once you've personalized your map you're ready to head out the door.
If you subscribe, then you can gain access to a bunch of cool upgrades. I use the free version and it works just fine for me.
*TIP* Use the keyword search feature to locate church sales, high school fundraising sales, and community garage sales. These types of sales usually provide the most bang for your buck.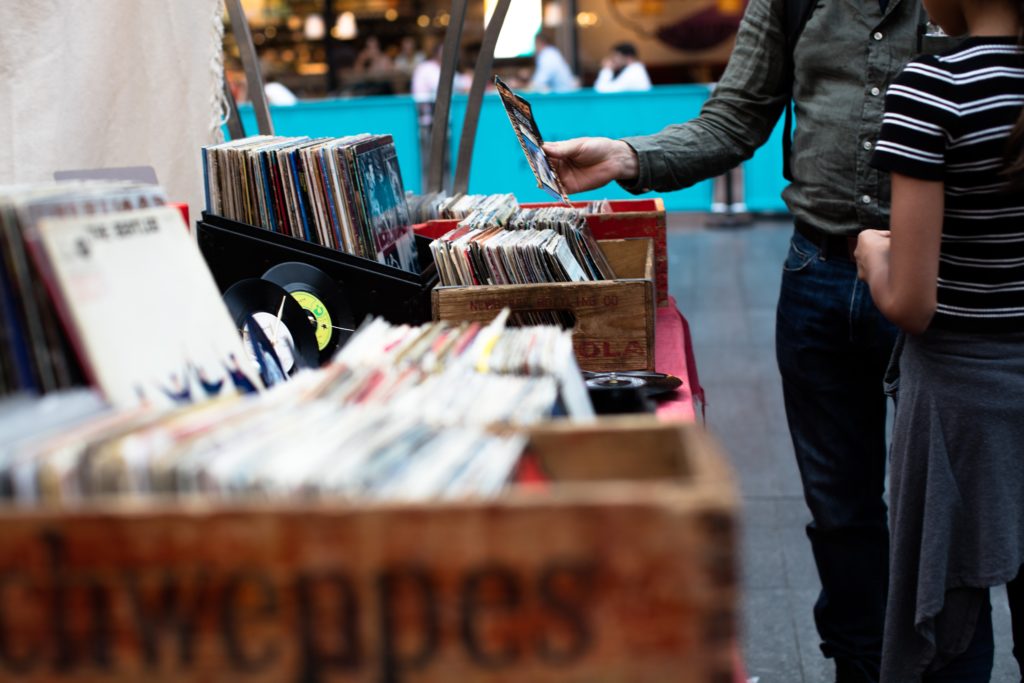 What "Trash" to Buy at Garage Sales?
The possibilities are endless but here is a list of items I see at almost every sale:
Baby clothes
Shoes
Women's Clothes
Sporting Gear
Books
CDs
Electronics
Toys/Board Games
Pick one or two categories that appeal to you and avoid the rest (at least for now). We highly recommend that you get your bearings with one category and resell in general so you don't end up with a garage full of stuff you can't sell for a decent profit.
I stick to items that are in very good condition or better.
How Much Should I Spend on "Trash" to Resell?
Remember, the people holding the garage sale want the stuff gone. My personal rule is to never pay more than $2 for an item. There are exceptions to every rule but my normal range is 50 cents to $1 for any single item. This obviously limits the type of category I choose to favor but that's what works for me 🙂 I almost always ask if they'll take less than the sticker price especially if I'm buying more than one item. I'm not afraid to walk away. For example, if a seller is asking $5 per book then I move on. I don't waste time trying to negotiate something like that at a yard sale.
I usually spend a maximum of $10 per weekend.
Where to Sell My "Trash?"
Local Online Garage Sales (via FaceBook, these are closed groups)
Facebook Marketplace
I recommend posting your finds everywhere you can to gain the furthest reach. Be sure to take clear pictures and include as much product information as possible. Ex. model number, brand, etc. Be completely honest about the condition of the item.
Additional Places to Sell
How to Price in Order to Turn Trash into Extra Cash?
This will wholly depend on the item. Look at what similar used items are listed in each app. If you can't find a similar item then look at used pricing on eBay or Amazon. This will provide you with a starting number. Be prepared to reprice your item if it doesn't sell in a week.
*TIP* – With the exception of books, I only purchase items where I expect to make a profit of at least $10.00 upon reselling.